Data Logger Suite is a Swiss knife among other data logger tools. It receives information from any device connected via RSS232, TCP/IP, UDP ports or with an OPC interface, deals with it the way you want, including custom processing and filters, and then stores it to an arbitrary database on your computer. Thanks to the full support of any serial interfaces, Data Logger Suite is truly a versatile solution to monitor any serial data.

Parallel Data Logging
One of the key features of Data Logger Suite is its ability to question any number of serial interfaces simultaneously and to log information obtained via them concurrently. Data Logger Suite natively supports RSS232, TCP/IP, UDP and OPC protocols and treats them so that working with any of them becomes similar and 100% transparent. The parallel logging of data doesn't require any specific setup and works with any devices connected to these ports, all of them at the same time.
Real-Time Data Logging to File
Real-time data logging is another extremely important ability. Data Logger Suite monitors all serial data sent to and received from devices and collects information in real-time, immediately saving each chunk to a database. Real-time logging ensures you never miss a single bit of data sent from a device, regardless of what interface it is connected to.
Real-Time Data Logging to Any Database
Once Data Logger Suite captures serial data, it can store them in any database, including MSSQL, MySQL, Oracle, Access, dBase, or any other ODBC-compatible database. Moreover, the program can export any data directly into Excel, filling a spreadsheet with information on the fly via the DDE interface. Conveniently, Data Logger Suite can process information before writing them to a database that opens virtually unlimited filtering options, structuring and formatting your data.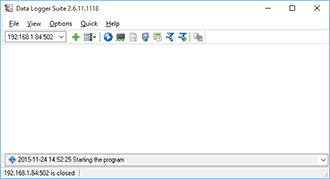 - Jim Christensen:
« Thanks for all the excellent work and product. I'll definately recommend this software to other agencies who are looking for a similar solution! »

Read More
Features:
One program can work with several interfaces simultaneously. RS232, COM, TCP/IP, UDP ports, OPC DA1 and DA2 interfaces, SNMP protocol, modem devices, file data sources, DDE, SQL and SMS interfaces;
Multiple ports and interfaces. Capability to log multiple RS232, RS485, RS422, TCP/IP, UDP ports and OPC, modem interfaces at the same time;
Flexible parameters. You can configure custom parameters for each port or interface (for example, IP address or baud rate);
Extended logging features. Real-time Data logging to text or raw binary files;
Logs formatting. You can format log files by date, size or data type;
Data query plugins. Capabilities to send requests through RS232 or TCP ports to a remote device to start data exchange;
Data parser plugins. The parser can extract only necessary data from a common data flow. Allows you to build a full-featured real-time data gathering system;
Data export plugins. Capability to store the extracted data into a database, such as MSSQL, MySQL, Oracle or Access, or put the info directly to a target application via DDE and OPC interfaces;
Various OS. It supports all Windows platforms from 9x to Windows 10;
Service mode. Our data logger can work as a service and log data even as users logon and logoff the workstation;
On-line help. Press the F1 key at any time, and on-line help will appear, providing concise and up to date documentation.
User-Friendly. Data Logger Suite features an easy to comprehend, thoroughly illustrated interface, and therefore it doesn't require any special knowledge to start using it. The flexibility merged with the utter ease of usage, and technical perfection provides superior convenience of any task performed with the program.
Our Data Logger supplies several cut down versions. Some versions omit some of the advanced features found in the Enterprise edition and are ideal for users who either want a low cost or free solution or are not interested in more advanced features. Read more here.